Free Housing & Community Advice Service - Bus Visits
The Housing and Community Advice Service Bus will be travelling to areas across our area to provide support and advice on topics ranging from debt and benefits to homelessness and COVID-19 recovery. The Community Hub bus is a one stop shop providing information, advice, and support to improve the wellbeing of our community. It will be in Bottisham every third Wednesday in the month
.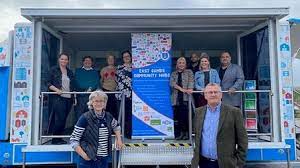 Next Stop in Bottisham - 19th January 2022
At Bottisham Community Sports and Social Club just off Downing Close.
The hubs provide FREE support and advice for individuals and their families covering drink or drug challenges, housing or homelessness issues, benefit questions, mental health advice, domestic abuse, money worries, they are also there if you just need someone to talk to.If you have any paperwork relating to your questions, try and bring it with you.
You do not need to make an appointment, just drop in and someone will see you as soon as they are available
You can attend any of the drop-ins. Have a look on the bus timetable for where the bus is next.

https://www.eastcambs.gov.uk/housing/community-bus-timetable

For more details visit: https://www.eastcambs.gov.uk/housing/community-hub